WF "Test Print" Painted but with no added details
The WF wagons were among the very first wagons built at Midland Workshops for the WAGR Standard Gauge project in the 1960's. The first few were built in 1964 and were used in construction trains, carrying sleepers and other materials.
The WF's were versatile wagons, carrying on-board a set of bolsters and stanchions which were stowed in slots in the steel deck. The sides of the wagons included lashing rings for securing loads, and slots for container fixing brackets.
Starting in 1979, the WFs were reclassified as WFDY.
WFW Test Print with separate iron ore containers
WFW Test Print showing storage slots for bolsters and stanchions
Close-up of WFW. Added details include handrail, ratchet brake handle, uncoupling lever and air hose.
From 1969, some were converted to class WFW to carry iron ore in specially-constructed containers, which were transhipped at Avon Yard, near Northam, to narrow gauge 4-wheel flat wagons for the remainder of the journey to the iron and steel works at Wundowie via Spencers Brook and Clackline.
Rake of WFW's with iron ore containers at Avon Yard in the 1970's
To recreate this unusual traffic, Marbelup Models has also created a 3D-printed model of the iron ore containers. Although over 40 years old, the containers appear to still be in active service and have roamed at least as far as Broken Hill, as indicated by the photo below from
Railpage
.
WAGR Iron Ore Containers on AN wagons at Broken Hill
The containers are also available in S scale for modellers of the narrow gauge portion of the journey.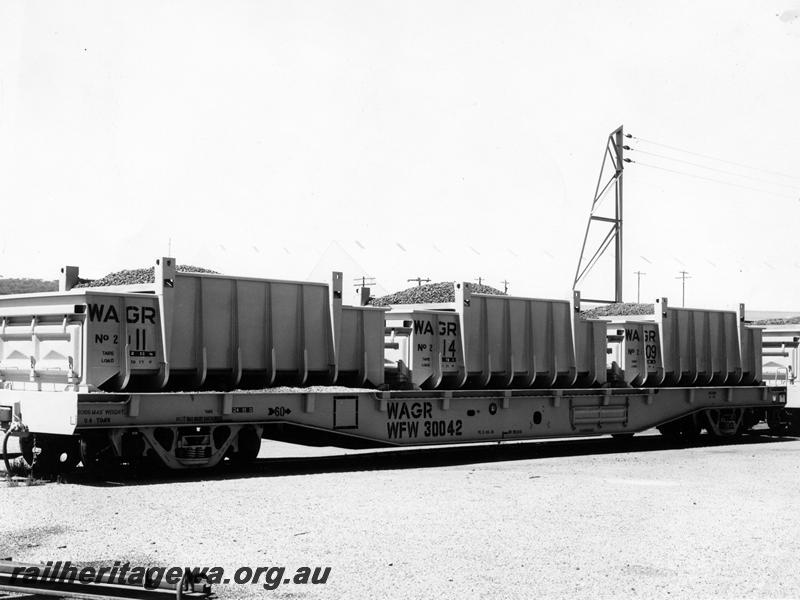 Please refer to the
WA Wagon Pages
for more information on the prototype wagons, including the
WFW
. There are also numerous photos at the
Rail Heritage WA web site
. Hint: Search for "iron ore".
The Marbelup Models "kit" for the WF/WFW/WFDY consists of a one-piece 3D-printed body in HO scale. Some cleanup will probably be required to remove the support structures which are required during the 3D printing process. Typically, this takes about 30 minutes. The purchaser must also obtain, separately, bogies, couplers, fixing screws, brass wire (for details such as handrails), paint and decals. Refer to the
Assembly Tips
for more information.